Before the post starts proper:
Congrats to the SOT grads, they've done something
that i've been thinking of, just thinking of, for a long time.

So its another CG outing, or most of it.
Chris, Chris Bro, Jacky, yrreT, Kenneth, Jael, Esther, Agnes.
And the guest appearance of Robin, the dentist friend.

We went to Oasis for dinner.
The chef must have been crying very badly at the point
of time when he/she was cooking our food.
we also speculated the price of salt crashed overnight
on the commodities market.
nuff said about the taste of the food which was a tad disappointing
since its never happened before.

THEN, we headed to Udders Ice Cream @ Siglap.
We also note a few poltergeists that were around.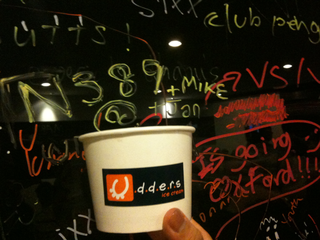 though not being physically there.
but they're loved nonetheless haha

Firstly, lets talk about the crowd: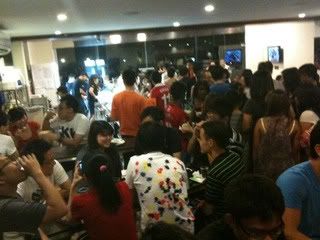 actually, the word "crowd" does not suffice to
describe the multitudes of people squeezing into
that small space.
but i guess the stat board did get it right by
realizing we do have one of the highest
population densities in the world ><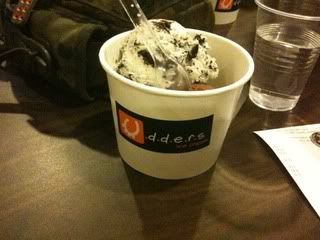 The cookies and cream was really nice,
the Tiramisu ice cream, unless you want to get high from ice cream.
its totally laden with alcohol. can't taste the tira from the misu.
and makes "i" wanna "scream" gahh~
not bad for a forfeit penalty to punk your friends with though.

So the evening went well, with lots of banter.
Though the place was too cramped for my liking.
Agnes's "please please pleaseeee" will never be forgotten, hahahhaa.
The really nice boy waiter.
Fervent exchange of flavors.
A colored shirt.
A colored blackboard.
An incessant craving for cider (perhaps only me...)
and before we knew it, it was 1130pm and time to go.

Here's the rest of the pics: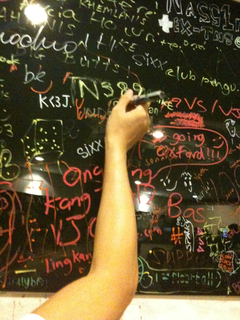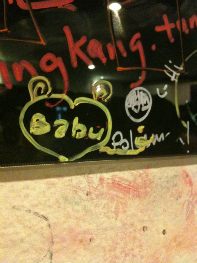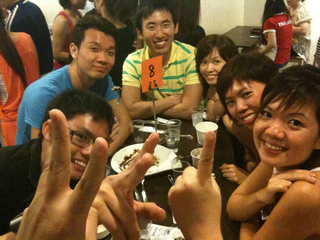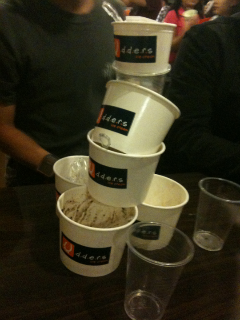 The End~!

Dee aka D1 blogged at 4:14 PM
You lead me...
...in paths of righteousness...
Ephesians 5:22~33
Wives and Husbands
(JQ's Version)

22.Christina, submit to your husband Damien as to the Lord.

23.For Damien is the head of the family as Christ is the head of the church, his body, of which he is the Savior.

24.Now as the church submits to Christ, so also Christina should submit to Damien in everything.

25.Damien, love your wife Christina, just as Christ loved the church and gave himself up for her

26.to make her holy, cleansing her by the washing with water through the word,

27.and to present her to himself as a radiant church, without stain or wrinkle or any other blemish, but holy and blameless.

28.In this same way, Damien ought to love Christina as his own body. He who loves his wife loves himself.

29.After all, no one ever hated his own body, but he feeds and cares for it, just as Christ does the church

30.for we are members of his body.

31"For this reason Damien will leave his father and mother and be united with Christina, and the two will become one flesh."

32.This is a profound mystery—but I am talking about Christ and the church.

33.However, Damien also must love Christina as he loves himself, and Christina must respect her husband Damien.

Congrats to you both for finally getting engaged. Christina! If Damien ever bullies you, let us know alright? We'll give him a good spanking.....
And Damien! If Christina bullies you, let us know too... We'll laugh at you =)
*Group Hug*
Jiaqing blogged at 3:17 PM
You lead me...
...in paths of righteousness...
Thursday, October 23, 2008
"Are you afraid?" I asked. "Of course," she replied, "that's what keeps me safe." 

Much of life poses moral danger for us. We should never assume in any situation that we're incapable of falling. "Let him who thinks he stands take heed lest he fall" (1 Corinthians 10:12). Given the opportunity and circumstances, any of us are capable of falling into any sin. To believe otherwise is sheer folly.

We must watch and pray and arm ourselves for every occasion by putting our total trust in God (Ephesians 6:13). "God is faithful" (1 Corinthians 10:13), and He will give us the strength to keep from falling. — David H. Roper

The hand of God protects our way
When we would do His will;
And if through danger we must go,
We know He's with us still. —D. De Haan

God provides the armor, but we must put it on.
-taken from www.rbc.org
slegna blogged at 2:35 PM
You lead me...
...in paths of righteousness...
Tuesday, September 16, 2008
I know things have been happening.
So let's see it visually:
Hey guys, even though you're all busy... 
somehow i feel this post is needed.
I wonder if it'll help you,
and also this was what came to me when i prayed for you:
We all want to bring light and salt to the world
so we brave the facades and bring our true hearts in.
Yet some forget that at the same time
the world brings its darkness and enticement to us
with their sincere and subtle ways,
so, where have our true purpose gone?
Love you all loads,
Sher
slegna blogged at 9:24 AM
You lead me...
...in paths of righteousness...
Wednesday, September 10, 2008
Hey Fellas, I was reminded of this poem/short story which I read some time ago when Pastor Tan was preaching about how we always look at things negatively. So here it is: 
___________________________________________________________________
I woke up early today, excited over all I get to do before the clock strikes midnight. I have responsibilities to fulfill today. I am important. My job is to choose what kind of day I am going to have.
Today I can complain because the weather is rainy or I can be thankful that the grass is getting watered for free.
Today I can feel sad that I don't have more money or I can be glad that my finances encourage me to plan my purchases wisely and guide me away from waste.
Today I can grumble about my health or I can rejoice that I am alive.
Today I can lament over all that my parents didn't give me when I was growing up or I can feel grateful that they allowed me to be born.
Today I can cry because roses have thorns or I can celebrate that thorns have roses.
Today I can mourn my lack of friends or I can excitedly embark upon a quest to discover new relationships.
Today I can whine because I have to go to work or I can shout for joy because I have a job.
Today I can complain because I have to go to school or eagerly open my mind and fill it with rich new tidbits of knowledge.
Today I can murmur dejectedly because I have to do housework or I can feel honored because the Lord has provide shelter for my mind, body and soul.
Today stretches ahead of me, waiting to be shaped. And here I am, the sculptor who gets to do the shaping. What today will be like is up to me.
___________________________________________________________________
So don' t ever flood your mind with negative thoughts but try to look at things the way this author did! =)
Jiaqing blogged at 10:35 PM
You lead me...
...in paths of righteousness...
Growing old or growing up?

-> the key is taking responsibility
over your life
your family
your friends
your career choice


and over the cell group. =)

2 more days

Michael Wan Chang Chin blogged at 5:03 PM
You lead me...
...in paths of righteousness...
Michael Wan Chang Chin blogged at 2:57 PM
You lead me...
...in paths of righteousness...